4 Awesome Resources to Help You Market Your Online Business
By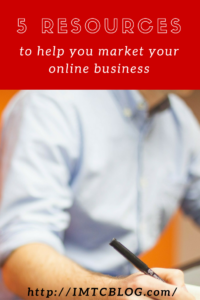 There are many kinds of opportunities out there on the Web to advertise and market your business—you just need to know where to look. At Internet Marketing Training Center, we use several different ways to market our content to entrepreneurs, authors, personal development coaches–anyone who wants to start an online business and/or learn about Internet marketing to help them grow their brand. Here's a list of some of the resources we use.
Meet Edgar is a social media automation app that allows you to schedule posts to be shared on social media (with support currently for Twitter; Facebook profiles and pages; and LinkedIn profiles and company pages). Edgar, allows you to store all of your updates online in a category-based library, where they remain even after they've been posted once. Edgar also allows you to save as many updates as you'd like.  
Audiense is a social marketing platform with rich, actionable insight and marketing tools to engage audiences based on what they say, who they are, and how they think. This allows marketers to understand their audiences in unparalleled depth, identify strategic market opportunities and engage audiences intelligently. It eliminates assumption and guesswork about your audiences, helping you to identify and target new markets, and to nurture and grow existing ones.
Canva makes design simple for everyone. It allows you to create designs for web or print: blog graphics, presentations, Facebook covers, flyers, posters, invitations and many other social media graphics.
DrumUp is a powerful content marketing, curation and social media management tool. Discover and curate trending content, and schedule posts on Twitter. Although you cannot market your business on there, you can find content to curate to bring an awareness to your brand and provide valuable content.
There are many more resources out there, but these are the ones we use consistently. Join us each month to get more.