How To Write a Compelling Opt-in Form
By
Collecting emails for your database is getting harder and more competitive each year. As people receive more and more junk email to their inbox, they are becoming reluctant to sign up for things like they used to, and becoming more selective about what they think is really necessary information. In that regard, the information you are giving away has everything to do with getting that critical conversion. Critical, because building your email list is still the number one most important thing you can do for your business and making money online. These people are your fans: the ones that know you best and you have invested the time to brand yourself to. Your list is more receptive to making purchases than just random traffic. Getting people to sign up has everything to do with how you craft your message in your opt-in form and sign up areas.
Let's look at a couple of really captivating opt-in forms and why they're different from run of the mill stuff: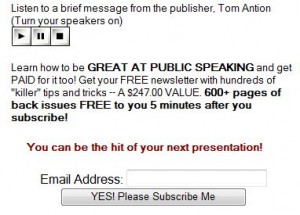 The above image is an example from Antion.com, the founder of IMTC. A couple of elements stand out:
* The ability to 'listen to a message' helps make a personal connection.
* Lots of benefits:  '600 pages of content' means more than just an excerpt or 'special report'.
* Concentrate on value:  "$247.00" and "get paid for it" speaks to the customer about saving and earning money in their industry.
The next example is from BrendonBurchard.com, a very successful info product marketer. The strength of this opt-in is that he is giving away training videos – far more dynamic and easy to understand than text based products. The videos are long, detailed and are made expressly to brand himself as the expert. They are made to funnel the customer towards additional training for purchase. The copy of the opt-in form is simple, concentrating on 'helping', 'getting paid' and 'instant access.' These three elements speak about value in easy-to-understand language, without a bunch of hype.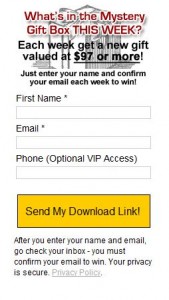 This is my personal favorite. The above example is from Stompernet.com. They're giving away content so cool, they won't even tell you what's in it. It's disguised as a 'contest', but it is simply an email gathering device. The promise of a $97 "gift" every week is almost to good to pass up. The visitor will at least sign up to see what the first free gift will be, so it better be good. If the information is sound, full of real world benefits and helps build your brand, you could have a home-run with this strategy.
These are not hard examples to emulate for your own business. They didn't take any more time to put together than the opt-in form on your own website. They may be just a tad more creative, however, helping make that hard-to-get conversion easier for you. Stop with the 'special reports' and 'newsletters' and think of something more creative. Make sure that what you are giving away helps make more money for you after the customer gets the email. What are some other techniques that can build a powerful database of customers?