IMTCVA Distance Education – Careers in Search Engine Optimization
By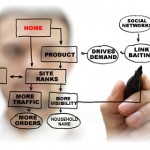 SEO – you may have heard of it. Search engine optimization is the technique of designing a website so it is 'search engine friendly.' In other words, improving the visibility of a website to the search engines causing a higher search result using keywords, images, linking strategies, coding and site maps. SEO is also the understanding of how people search and what the search engines are looking for.
There's alot to SEO when you get right down to it. It's a well-oiled machine consisting of hundreds of different factors. At IMTC, you'll learn it all. And SEO is in high demand from companies all over the world who need their websites to get the most exposure possible. The search engines are where all the new customers come from and how high you rank has everything to do with how successful a company will be on the Internet.
Did you know that you can have a great career in SEO and work from home doing it? Helping businesses with their website ranking isn't always done 'in house.' Most businesses look for experts who work on the outside to help save money and their bottom line. If a career in SEO sounds like something you would be interested in, look no further than the Internet Marketing Training Center. Download a free career guide that will explain how you can start a new career in Internet marketing and how you can get started today!