Easy Traffic and Critical Exposure for Your Website: The Facebook Comments Plug-in
By
Tom Antion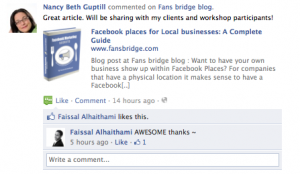 Lately, I have seen a ton of sales letters, squeeze pages and websites that are utilizing the Facebook Comments Plug-in. Simply put, it is a way for Facebook users to leave a comment on a webpage that will also show up on their user profiles. In essence, people visiting a webpage can add their two-cents and not only will it show up on their Facebook Wall, it gets sent out to all of their friends via the mini news-feed. Now all of their friends can click on the link as well, driving a wall of fresh Facebook traffic to the website. They can elect to leave a comment as well, creating an exponentially large amount of exposure.
This is the critical exposure needed to compete with the huge amount of competition for your topic. Or if you are having a time-sensitive event, this can help push it along in short order. The Comments Plug-in also has other factors involved such as: looking like there is a 'buzz' going around for the website, getting feedback from your visitors, and using the amount of back links from all of those Facebook Walls as an SEO strategy. This plug-in is free to use and easy to implement. After filling out the variables in how the plug-in will look, your webmaster simply copy and pastes the provided code into the website wherever you want it to show up.
How can you encourage Facebook users to leave a comment? Ask for their advice for starters. People like to leave their opinions and feel as if their input matters. Since you can track who leaves a comment, or how many 'likes' a comment may get, you can offer a prize for people leaving a 'really good' comment. Facebook doesn't allow contests to take place directly on the Facebook site, so this third-party app is perfect for holding a sweepstakes. Social media is the future of the web, especially in conversation mode. A direct-to-dialogue approach will work wonders for your web business. At the Internet Marketing Training Center, we will show you how it's done.