IMTC: What Are Merchant Accounts?
By
To make money at this Internet game you have to have some way to take credit cards. You must have a way to capture a sale immediately when you create the impulse to buy in your customer.
You don't even want your prospect to have to get up from their computer. Anything that distracts them could translate into a lost sale.
One of the most important ways to grab the sale NOW is to have your own Visa/MasterCard/AMEX merchant account tied to your shopping system. It used to be really tough to get a merchant account, especially if you work out of your home.
Now, you can't turn on your computer without 200 ads hitting you in the face from companies wanting to give you merchant account status. . . .Well "give" is not exactly the right word. . . It's going to cost you.
You can visit http://www.HowToUseAShoppingCart.com  to find the one we recommend.
You'll run into all kinds of deals where people will want to lease you card swiping equipment . . .unless you do a ton of live sales at trade shows or flea markets, you will never see a actual credit card when doing business online. All the sales are either via Internet or telephone.
Sometimes a fax will come in. You simply don't need a card machine. You can even take an order over your cell phone while on a plane before it takes off!
Get firm numbers on upfront fees, monthly fees, credit card percentages, and per transaction costs. While you're at it, find out exactly what a transaction is? Does calling for an "authorization only" constitute a transaction? Does doing a return equal a transaction? All these fees add up, but you'll consider them chump change when you start doing lots of business.
Five Major Parts
For an online store to work there are five major parts that must all work together.
• Your website where your products and services are described
• Your Shopping Cart: that's the interface the customer uses to shop and put in their credit card information
• Online Gateway: that's the mechanism that connects the shopping cart to the merchant account and keeps the credit card information encrypted and safe as it travels between the shopping cart and the merchant account.
• The Merchant Account: that's the company that actually runs the credit card charges.
• Your bank that receives the money from the merchant account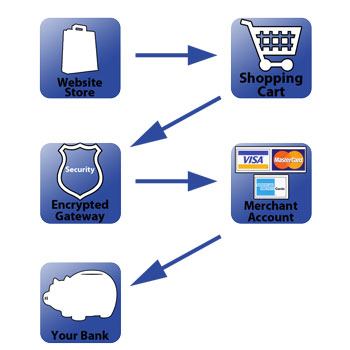 Learn more about setting up a merchant account for your online business.