Internet Marketing Careers – WordPress Website Creation
By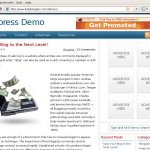 There has been an explosion of WordPress websites for business in the last 18 months. Almost everywhere you look, companies large and small, plus individuals, are using WordPress software to create their websites. Why? Because compared to traditional websites, WordPress is cheap and easy to make. That doesn't mean that just anyone can build them. On a basic level, most beginners can create something simple. But ad in a custom header, special widgets, plug-ins, opt-in forms and simple HTML code and you'll have a mess on your hands if you don't know what you're doing.
That's where the training in WordPress creation and management comes in. At IMTC, we teach you the advanced techniques for quickly and easily building a WordPress site for either yourself or a business. This is a high 'in demand' service because of the explosive popularity of WordPress. There are more businesses who need help in managing their sites than there are people who know how to do it. This is a BIG opportunity for you to make money with your knowledge.
And it doesn't stop there. Your customers will still need consultations in keyword placement, image management and much more. At IMTC, you'll learn all of that too. This really is the career of the future. The work will only grow in its demand, and armed with the knowledge from IMTC, you have all you need to take this new career by the horns. Check out all of the classes we offer and download our career brochure too. See you over there!