Internet Marketing: Who Will Hire You?
By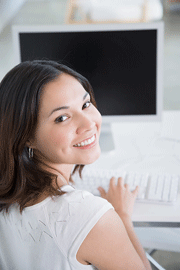 You've decided to enter the field of Internet marketing. Who will hire you? The possibilities are endless. Take a look at the myriad of ways businesses are using the Internet today and think about where you might fit in, then find appropriate training to prepare for your new career.
Advertising
Today's businesses are using advertisements to inform and educate visitors to their sites. You may even see advertisements disguised as brochures, technical specifications or lists of suppliers, as well as giveaways to encourage repeat visits to their site.
Communicating
We have become so accustomed to email that we rarely think about how it actually benefits companies. Used in conjunction with automated mailing lists, email can help businesses create interest and raise awareness of both their company and products. In addition to email, business owners can use the Internet to establish their own virtual community of customers or suppliers.
Informing
Selling your knowledge is one of the primary ways to profit from the Internet. Both businesses and individuals establish their credibility and then sell services, products and technology online.
Publishing
Both newspapers and magazines are now publishing online versions of their publications and attracting digital advertising from manufacturers and suppliers of goods and services.
Recruiting
If you have searched for a job within the last ten years, you are aware of the many job sites and recruiters, as well as large corporations, using the Internet for hiring.
Researching
Google it! Companies use the Internet to conduct research, turning to it to find financial results, technologies, solutions, suppliers and experts, as well as new product areas and markets.
Selling
Shoppers seem to love shopping online, offering business owners the opportunity to sell their products directly to the consumer.
Technical Support
Where new products used to come packaged with a user's manual, most manufacturers now direct the consumer to their website to download digital version. In addition, software companies provide online technical support to their users and invite you to try upgrades.
Training
More and more businesses are offering interactive training and long distance learning on the Internet. For stay-at-home parents and people with disabilities seeking training, this is a invaluable.
Have questions about your career in Internet marketing? Visit http://imtcva.org/ to download a free career brochure.