Let Your Visitors Stay Connected With "Follow" Icons
By
Tom Antion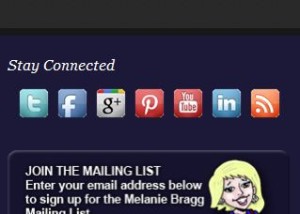 Having easy to see and understand 'follow me' icons can greatly increase your social networking followers and help your visibility on the web. Many websites use them, but often they aren't updated or in a place where they are easy to find. The example above is from a website where the icons are almost the first thing you see – placed correctly in the top right hand sidebar area just above the opt-in form.
The eyes naturally gravitate towards the top right corner of a website as we are reading the content, so it is a highly visible place for these icons. I've often seen them in the footer area as well, but this is an area seen very little by most visitors. Why are follow me icons so important? They give your visitors an opportunity to learn more about you and stay updated about your business without having to use their email to sign up for something. People are becoming more and more reluctant to sign up for newsletters because of the overwhelming amount of email they already get and, of course, the increasing amount of spam.
Social network following also gives people the chance to ask you questions without having to conduct it through email. Social networking gives you a 'forum' for all of your followers to get together and talk among themselves while you share important content with them. Building this kind of following is easier when your icons are visible and in good shape.
Use the free WordPress plug-ins "Sociable" and "Floating Social Icons" to increase your popularity online. There are many other plug-ins available so experiment and have fun! Learn more about how social media and social sharing can increase your online success.