Online Education – Making It Easy to Change Careers Mid-Stream
By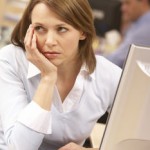 Most people who are in dead end jobs feel stuck. They would love to make a career change, but don't feel they have the time to learn a new skill. The hours they work now can interfere with being able to go back to school, even for night classes. But what if you could learn at your own pace? And from the comfort of your own home?
Online education, also known as distance education, is perfect for people who have little time to squeeze a traditional education into their schedule. Most people who are in the middle of their careers have children as well. This adds even more stress to one's ability to find time for learning. How about learning when and where you can? When you have that small amount of time to further your education, you'll use your time wisely and take your education more seriously.
Distance education is perfect for those who need the skills now to make a change. At the Internet Marketing Training Center, we can teach you the skills for a new career: a career that's high in demand by employers, non-profits, or you can use the skills to create your own part time or full time business: one that brings in a lot of extra money. At IMTC, we will give you ideas about how to use your Internet Marketing education to get the job of your dreams or start a business.
Why wait? It's time to get out of that dead end job and take your life and career as far as it can go. Call us at 757.687.5190 or download our free career guide at http://www.imtcva.org  and see what your future can hold.