Using Pinterest For Website Traffic Generation
By
Pinterest  
Pinterest, one of the fastest growing social networking sites ever, is a social photo sharing website that allows users to create and manage theme-based image collections such as events, interests, hobbies, and more. It is unique in that it uses a 'pin-board' style website design that is easy to use and navigate.
Users can browse other pinboards for inspiration, re-pin images to their own collections and 'like' photos. Pinterest gives it's users the ability to share their 'pins' with facebook and Twitter followers, interacting with a broad community.
The appeal of Pinterest for marketers is the ability to share photos and videos of interesting material, and then have friends leave comments on the photo. The image itself can be clickable out to a website of the 'pinners' choice, helping drive traffic to blogs, Youtube channels, Facebook profiles or sales letters / squeeze pages.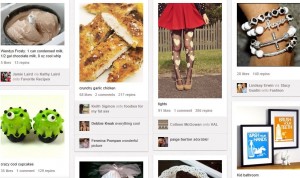 The most popular images are those of crafts, hobbies and travel. Food blogs have gained an entirely new way to get free traffic to their posts. Pinners put up images of delicious food ideas and their friends can leave comments. The friends can 're-pin' the photo to their own boards where others see it, and they in turn leave comments. This results in a fast-sharing, 'viralism' of images that when clicked on, lead back to the original source of the image – the food blog.
Once there, visitors can subscribe to the blog, sign-up for a newsletter or purchase a recipe book. This same sharing marketing model can work with jewelry retailers, crafters, book sellers, clothing designers, real estate listings, travel agencies: just about anyone can use images to drive free traffic to their websites and services.
Learn more about how Pinterest can help with website promotions!