3 Things We Learned about Modern Day Business Owners
By
Every month, we check in on our students to make sure they are doing well in the coursework.  We give them a call after reviewing their progress on our backend. Of course, we somewhat have some insight as to how they're doing (we can see how many courses they are completing) but really, it's their chance to ask questions or give any feedback about the material.  During this month, though, we were quite excited to receive back-to-back comments from students who had similar experiences.
One student said he use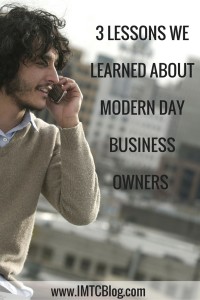 d some of the tips and tricks provided in the coursework to tweak his website, and a few days later he noticed that his overall ranking on his site improve in the search engines. (Pretty cool, huh?) Another student shared with us how grateful she was for the course because she was learning so much. She said that she was implementing one of the productivity we recommended, and landed a highly qualified intern to assist her business!
With each conversation we had with our students, we were able to take away some key points. Points that help you understand exactly what the modern day entrepreneur, Internet marketer, social media marketer, or business owner are looking for. Ok, here goes…
They need credible information from people who have been there done that.

 We are working with real life entrepreneurs or aspiring entrepreneurs that want to take their businesses to the next level.  They do not want (nor have the time) to fiddle with what "may or may not work" for their businesses.  That's why we compiled content that caters to the real-world entrepreneur that wants maximum impact from the exact way the found made his multi-million dollar empire. From building their WordPress site to lead magnet ideas to sales and conversions, we give them what they need now!  

They want to see results.  

It's often a difficult place for entrepreneurs (because we know that results often take time) but they want to see them and they want to see them now!  For that reason, we don't play around at IMTCVA.  We ensure that our student's lessons and coursework push them to learn AND build their companies along the way. It's a process that happens simultaneous.

They want updated information that changes with the industry times.

Technology is always changing. The way things are being done online is changing too. What was done a decade ago may not be what's most popular now. Heck, social media wasn't even in the picture years ago; however, it's one of the top ways Internet marketers and business owners are tapping into their target market to generate cash flow. Luckily, we know that and stay abreast of what's coming out.  We are always deleting obsolete concepts, researching and adding the best content for our students.
Overall, we are elated that our students are doing well in the course and progressing towards graduation. Looking at some online graduation rates (the not so good ones) it's an honor to have our students trucking through. I hope you gained some valuable insight from the information we provided.
Also, if you saw yourself in any of the three points we mentioned, we would love to hear from you!  We would love to help you take your business (or aspiring business) to the next level. Whatever you need, we've got it!  For information on how you can join the school please go to www.IMTCVA.org to inquire.