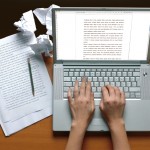 Writing for websites, online articles and sales copy is far different than writing for magazines and newspapers.The web is a place where people surf fast for information and make decisions quicker than when they leisurely read print. Web copy is a visual medium, consisting of various colors and font sizes. The nature of computer screens and how our eyes adjust to them have dictated how we write words for websites. Over the course of the short life of the Internet, marketers, designers and writers have experimented with how to make web copy more "readable." And what they have come up with is a science unto itself.
Along with readability, what we are also doing with web writing is trying to get readers to "click" out on links. The best web copy is usually trying to compel readers to visit another website or get them to buy something. Marketers have experimented with this as well. Web copy should be written to persuade your reader to take action through a psychological process. All of these things can be learned effectively and practiced to perfection.
Who do you trust to teach you this knowledge? The Internet Marketing Training Center has the expert staff that have been writing copy for years. Now they are bringing that knowledge to you. This is the kind of high level training that businesses are looking for or that you can use yourself to write for your own web business.