Archive for information marketing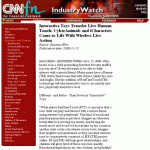 Press releases are a fast and effective way to tell the world about a company's products and services. The idea of issuing a press release goes back many years – traditionally newspapers were the vehicle of choice for businesses releasing information about promotions, new hires, new locations, grand openings, employee advancement and new products. Trade magazines as well were a great place to issue important company news, and they still are. But the Internet has become the outlet of choice along with those others due to its popularity, ease of use and quickness to market.
That brings up another important technique of marketing that is relatively new: writing good copy for the web.  Online press releases are by their very nature, a different kind of promotional tool. They are dynamic, immediate and consist of many types of media and links. Unlike traditional press releases, they have images, clickable links to websites and resources, videos and widgets. This gives the reader an opportunity to be directed to a website or watch an interactive video presentation right from the press release.  
Marketers who know how to write effective copy for the web, know how to create anchor text for that copy and embed video files into the press release are already ahead of the game. These are the things that you will learn at the Internet Marketing Training Center of Virginia. There are free press release services for the web, and paid services that have a multitude of features that as an Internet marketer, you have to know about. It's trickier than it looks, but easy when you have the training. As a student of IMTC, you will have the skills to create effective press releases fast and easy, plus the mastery of many other important online techniques that employers are looking for.
Make yourself a valuable asset to the workforce with the proper training in Internet Marketing.