Internet Marketing Education – What Are META Tags?
By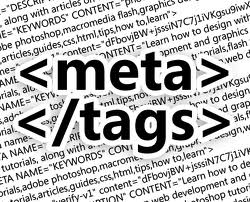 Let's look at an analogy that might help you understand what HTML coding is. Have you ever been to the theatre? What you see on stage is the actors, the furniture, the scenery, etc.
Behind the stage is all the rigging that makes the play work.What you see on stage is analogous to your webpage. What you see behind the stage is analogous to the HTML code. Your browser (most likely Internet Explorer, Safari or Firefox) interprets all the crazy looking HTML code from "back stage" and makes it look like a webpage.
So, now that you know what HTML is, let's look back stage and see how META Tags apply to your site.META Tags are being used less and less, and you certainly shouldn't depend on them to get high rankings, but you still should have them because they help you control what the search engines results list says about your site when someone does a search for your topic.
If you want to see some samples of META Tags, open a browser (Internet Explorer) and click on "view." Then click on "source". A new window will pop up and you can look at all the behind-the-scenes HTML programming of just about any webpage.
Here's an example of what the META Tags look like:
Sample META Tags
Note: The <TITLE> Tag should be the first thing after the <HEAD> Area of the page and then comes the "description" META Tag and then the "keyword" META Tag.
<HEAD>
<TITLE>Customer service training</TITLE>
<META name="description" content="Customized customer service training at your location by the person that "wrote the book" on customer retention">
<META name="keywords" content="customer service speaker, training, trainer, client retention">
Making web pages is pretty easy to do now and you generally don't have to know much about HTML. However, you do have to go a little bit behind the scenes to learn about META Tags, But you don't have to go too far because the new web authoring programs help you make the Meta Tags. Also, WordPress has plugins that make META Tags for you.