Jobs in Internet Marketing: Creating CD Products
By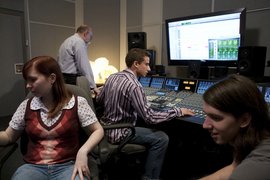 Making CD products from MP3 recordings or podcasts can be a big money maker. The problem is that the learning curve is too cumbersome for most businesses to take on, so they need someone to help them expedite the process. That's where a product development assistant comes in.
Digital recordings can come from any number of sources:
Podcasts
Downloads from Internet radio shows
Recorded phone teleclasses
Interviews
Audio ebooks
Any of these files can be edited in audio software, have beginning and ending music racks added to them, saved as the proper .wav files (best for CD duplication) and then copies of the CD made and sold. With a little bit of training, this can be simple process that can make a lot of money for a business and a good paycheck for someone working at home with the available software on their computer.
Think about the demand you could create for yourself if you had the right training. IMTC gives you this training and more including working with ecommerce systems, create simple web pages and the entire sales process from top to bottom. Get a free career brochure to discover all of the available work at home opportunities that exist today.