Online Training – Mid-life Career Changes
By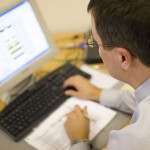 A mid-life career change can be a scary thing if you're not sure what to expect. I've been there myself. After 25 years in the gift-ware industry, I retired to look for a new career. I turned to something completely different, yet unique and valuable for the times we live in: Internet Marketing.
When I first graduated college and started my first career, there was no Internet. This is a new and viable career that is growing by leaps and bounds everyday, yet still in its infancy, to assure that it will see enormous growth without overcrowding. This is the perfect time for a career such as this.
If you love blogging, social networking, ecommerce, online videos and search engines, there is money to be made in every one of these fields. And you are never too old to learn a trade like this. Unlike some new careers, mid-life people have to watch that a new job doesn't entail much physical activity. High stress careers such as law or medicine and high activity jobs such as the Postal service, would be out of the question for folk over 45. Marketing and the Internet are perfect choices for mature individuals who have an entire lifetime of knowledge to contribute.
Check us out to see if this is the career for you!