The Internet: the Tidal Wave of the Future
By
Larry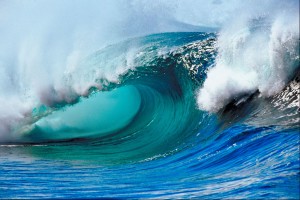 If you were to ask me a decade ago, "Do you think the Internet is here to stay?" I would have given you the same answer I'm still sharing with people across the world—HECK YEAH! The Internet is only gaining momentum. What we could only imagine years ago, is here at our finger tips. Just think—Skype, Google Hangouts, Periscope—technological devices that were only seen in futuristic movies, have hit our world. If you haven't already gotten aboard, you're missing out. Statistically, let me share with you what's been happening.
"In 2011, it was estimated that about $35.6 billion was spent on self-paced eLearning across the globe. Today, e-Learning is a $56.2 billion industry, and it's going to double by 2015."
–eLearningIndustry.com
If you didn't get excited about those statistics, or saw yourself fitting into the grand scheme of things, don't worry, our school helps you to filter those "far out dreams" into realistic opportunities. We've worked with authors, entrepreneurs, marketers, psychics, public speakers, energy healers, and more. So, when I tell you, you can make a living online—trust my word.
The main thing you have to focus on, though, if you decide to venture off into online marketing, is having a strong solid foundation and a clear direction of where you're going. As we shared in the title, the Internet is the tidal wave of the future, it can become a bit bumpy along the way. Therefore, you must equip yourself for the journey. One of the smartest steps anyone can take, become educated. There are loads of great opportunities that await, but at times, you can become so overwhelmed with the newest, shiniest objects that will deter your focus.
Where do you want to be? Wherever you see yourself, become educated and go for it!
Sources:
http://elearningindustry.com/top-10-e-learning-statistics-for-2014-you-need-to-know