Distance Education – Recession Proof Businesses
By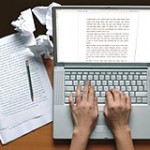 Yes. It's been a tough last few years on the economy and in the job market. Many conventional careers took a major hit as companies try and find a bottom line that they can use to survive. Middle management, an important resource over the last two decades, became a cost -heavy burden on most businesses and many people lost their jobs. Businesses have turned to more cost-effective ways to advertise and broaden their global reach. For most, the Internet provided the key marketing and advertising strategies they were looking for to stay afloat.
Of course, resources ran low when the demand for skilled Internet workers ran high. There was a shortage of people that knew the fast-paced and ever-changing Internet world.
Jobs in Internet marketing are recession proof. Why? Because during tough times the Internet offered the solutions for many cost-cutting measures. Employees could work from home, saving a ton of money for companies on things such as office space, utilities and equipment. The return on investment for advertising on the web is greater than that of conventional PR: television and print media.
Internet marketing is an integral part of almost every company, large or small, and it's here to stay. The job market for skilled Internet marketers, bloggers, video media and writing for the web is constantly growing. How can you tap in to this rewarding and expanding market?